We follow strict quality control measures to ensure the efficacy of our research data and analysis. We have have quality testing measures in place during pre-fieldwork, fieldwork and post-fieldwork stages. Our quality control steps are listed below.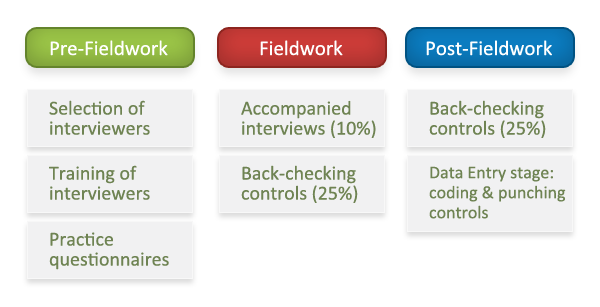 Selection of Interviewers
Action
Good listeners
Interested and enthusiastic
Hard working and energetic
Interactive
Careful
Results
Increased efficiency
Elimination of errors/bias
Speed-up of the research process with minimum disruptions
Flixibility and Adaptibility to different research methodologies
Training of Interviewers
Action
Training in local Language
2-3 training sessions per interviewer
Small training groups (6-8 persons)
2 practice questionnaire per interviewer
Participation by HQ if necessary
Results
Increased comprehension
Standardization of work
Exposure to various interviewing skills and techniques
Allows assessment of interviewers before fieldwork proper
Accompanied Interviews
Action
Accompaniment by fieldwork manager/supervisor on first day of interviewing
Observation of
- Random walk procedure
- Eligibility quotas
- Recording on contact sheet
- Presentation at the doorstep
- Asking questions/probing
- Skipping
- Use of aid material, etc.
Results
Ensures understanding of the questionnaire
Guaratees standardized interviews
Enhances interviewer participation and involvement
Back-Checking/Editing Controls
Action
Minimum 20-25% back-checking
Integral part of field management during fieldwork proper
Daily back-checking
100% of questionnaires edited on a daily basis
Immediate feedback to interviewers
All suspect sorted out and checked
Results
Enhances quality of data
Advoides interviewer misunderstanding
Same-day diagnosis of fraudulent interviewers